HoneVille ship's daily!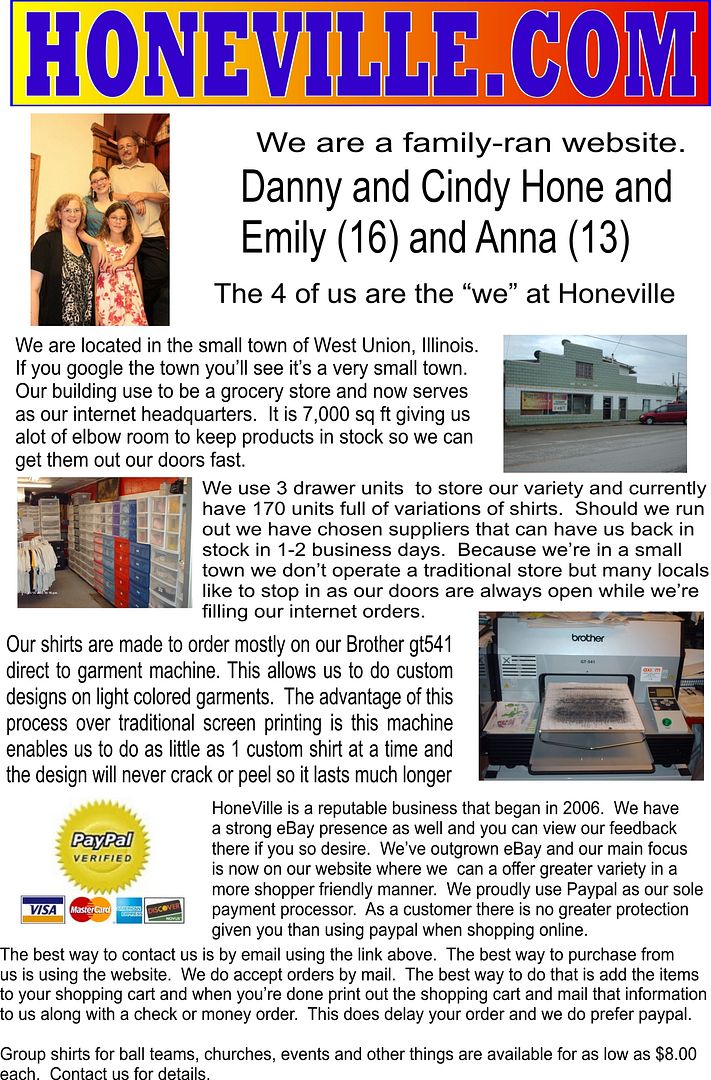 Our contact information
By email: honeville@honeville.com
By standard mail:
HoneVille
P.O. box 38
West Union, Il. 62477
HoneVille@honeville.com
Shipping Information:

Monday thru Saturday via USPS.

Returns, Exchanges and Cancellation Policies:

Sometimes pictures and words just can't replace touching and feeling. They can't replace a dressing room or seeing yourself in the garment in the mirror. In our industry we call this the "touch and feel" weakness of online shopping. At Honeville we believe the best way to overcome this problem is with a GREAT, HASSLE FREE, BUYER FRIENDLY return policy. Our answer to your whole "can I return this item" question is always YES! ABSOLUTELY, YES! Well, unless of course you wore it on a date and spilled wine all over it and want to return it because you can't get the stain out, LOL. But let's face it... for most of us we're not trying to knock over a t-shirt shop... we just bought something that we just aren't quite happy with and would have never bought it had we held it in our hands and seen it in person. So here's the deal. If you're looking at this wondering if you can return your purchase... YES. don't ask... just do it. Throw it in the mail, via First Class, to: HoneVille Returns, PO Box 38 West Union Il. 62477. Be sure to include all the information you can to help us give you a VERY FAST, EASY and FRIENDLY return transaction. We sell a LOT of stuff on several websites and we're lousy guessers. Help us help you! What about return shipping? Well shipping back to us is around $3.00 and if that's an issue for you be sure to let us know you want reimbursed for return shipping and we'll gladly do that for you! Why? Because we know you'll be back when we take good care of you and you'll bring some friends and family with you! If you have any questions or concerns use the link at the top of the page to email me.
Contact Information

email: Honeville@Honeville.com. Letter: Honeville. P.O. box 38, West Union, Il. 62477

Payment Information

May pay via PAYPAL or with any credit card. Checks and Money orders are accepted. To order by mail be sure to include complete information as to what you're ordering and where you want the order sent to: HoneVille.com, P.O. Box 38, West Union, Il. 62477